Engaging with candidates is always an important part of sourcing and recruiting for all Talent Acquisition teams. It is also a time-consuming process if you need to look at the candidate's profile in one place and open up your email account on the other side. In hireEZ, you are able to contact your candidates right after you find their profiles. And you can email them without going back to your mailbox.
In this article, we are going to go over the multiple major engagement processes in hireEZ step by step:
Email Integration and Signature
The first thing you need to do is to set up your Email Integration in hireEZ. You can find this feature on the Manage your profile -->Email settings -->General, or through the link here.
hireEZ supports the integration of multiple email servers. You can choose one based on your work email domain and click the link Connect. Then you just need to follow the instructions to sign in to your account and allow hireEZ to get access to your account.


You may then copy and paste your email signature to the text bar below to be saved for future use. Remember to click Save before you leave the page.
Read more on Set Up Your Email Signature.
For Business users, you can locate it in the same way.
Email Your Candidates Within Your Project
After setting up your email integration, you are able to contact your candidates at different stages within your project.
When you are viewing candidates in your projects, you can find their contact info at the end of the listed profiles. When you click the email icon, an engagement page will open and you can start to use sequence email to contact candidates.
Email Candidates in Bulk
If you want to engage with multiple candidates at the same time, you can achieve this by selecting the candidates from the list. You can choose to click the checkbox beside each of them or click on the general checkbox below the pipeline. When you finish, click on the Email button on the right.
Recipients Management
In the email composes window, you will find this button

next to the "Cc Bcc". By clicking this, you can easily double-check the information of all the recipients you added and manage those recipients.
You can also choose which candidates' email you want to send to if they have more than one email address. Or remove a candidate by clicking the X button, next to the candidate's name.
You may check the removed recipients' list in the right upper corner, and add them back if you like.
*Note: If a candidate doesn't have an email address or opt-out, you can't add them back.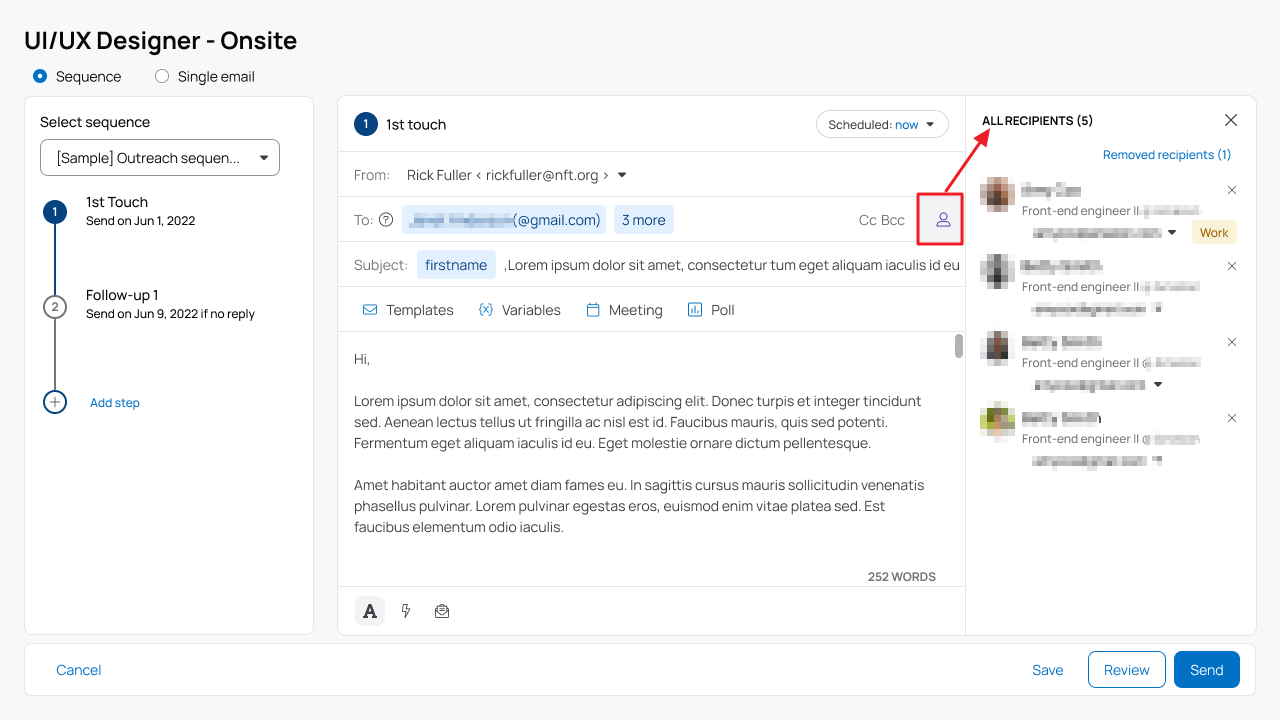 Use Email Templates and Sequences to Engage Your Candidates
After clicking on the email address link, you can compose your email in the pop-up window. Engage with your candidates with a Sequence is a great way to get a higher response rate, you could choose or create a sequence at the drop-down window in the upper left corner. You can also choose a template from the Template menu.
And you can always switch your Sequence to a Single email
Read more on:
Create and Use Email Templates to Engage Your Candidates
How to Engage Candidates with Sequences
The Messages Tab
In hireEZ, the Message tab is the place where you can find all information related to your engagement activities - when candidates reply to the emails you've sent from hireEZ, you will receive the email replies in your hireEZ Inbox as well as the work email inbox you have integrated.
You can view, reply, and keep track of your sent messages as well as manage your sequences and single email templates.
The features of the Message tab are divided into four sections: Inbox, Outbox, Sequences, Templates, and Meetings.
*Meetings feature is only available for Enterprise users.
Read more on The Messages Tab
Email Candidates through hireEZ Chrome Extension and Gmail Assistant
The hireEZ Chrome Extension works for many sourcing websites, including LinkedIn (and LinkedIn Recruiter), Twitter, GitHub, Kaggle, Stack Overflow, Google Scholar, and Google Searches. With the extension, you can email candidates that you have found outside of the hireEZ application without the need to load them into your ATS or use other contact finding tools.
You can then click on the email address link to write your engagement email.
If you choose to integrate your Gmail account with hireEZ, you may also get access to the Gmail Assistant feature through our Chrome Extension.
After this Gmail integration is authorized and enabled, users can leverage all the saved templates and sequences, and save emails as new templates into your hireEZ reservoir. If you tick the Track box, you will be able to see whether the candidates have opened your email and the performance in the Message-->Sequences/Templates in the hireEZ web app.
Once the sequence is scheduled, you can View, Manage and Track all the emails that you send from the hireEZ application and Chrome extension in the Outbox under the Message tab of your account.
As with emails sent from inside your hireEZ application, all replies from the candidates that have been emailed from the Chrome Extension and/or Gmail Assistant will appear in your hireEZ Inbox, as well as your work email inbox.
Read more on Gmail Extension in Your Mailbox
If you have any questions, please feel free to reach out to your Customer Success Manager or support@hireez.com.