When you find a good fit candidate in hireEZ and would like to get feedback from the Hiring Manager, you can simply share the link to the candidate's profile with your colleague, even if the person does not have a hireEZ account.
If you are sharing the profiles with someone who has the same domain as you but is not a user of hireEZ yet, he/she will receive an email invitation to sign up as a hiring manager.
---
Several Ways to Share the Profile
You are able to locate the sharing button on the candidate's profile picture in your pipeline. Or you can bulk select the profiles and share all of them.
*Please kindly note that the bulk share is only available for your team members.
After clicking on any of the links above, you will see a new window pop-up. Select your team members from the drop-down menu or invite the Hiring Manager from here. Edit the message if you need, then click on Share to send the email. If you are sharing one candidate to your team member, you may also copy the link and send it directly to your colleagues. In both cases, the link will expire in 30 days.
---
After Sharing
Once you share the profile, your colleague will receive an invitation from hireEZ Support to review the candidate's information.
By clicking on the link of the candidate's name, your colleagues will be led to a new page where they are able to view the candidate's background and leave feedback.
The feedback will appear under the Notes tab of the candidate's profile and is visible to the project owner.
Once your shared profile is reviewed by your team member, you will receive a notification via email.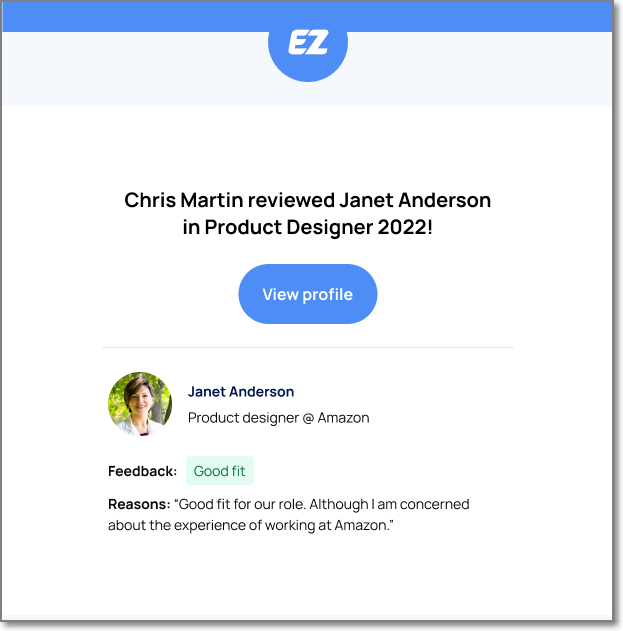 *Note: The profile sharing link will be expired in 30 days for security concerns. If it expires, you need to re-share it.