hireEZ has partnered with the best in the HR Tech industry to offer you ready-to-connect integrations with 30+ ATS and CRM platforms. Of these integrations, EZ Rediscovery are deep two-way integrations that centralize all of your candidate profile and user activities into one spot.
EZ Rediscovery uniquely maximizes your existing data through candidate profiles...
Refreshing and Enrichment
Work with an up-to-date talent pool when hireEZ uses data fusion technology to refresh and enrich stale profiles with data from across the open web.
hireEZ automatically finds and combines data from the same profiles to give you a clean talent pool.
Your existing database is a goldmine full of top talent. Quickly resurface and reengage with candidates in your ATS with hireEZ AI-powered filters.
---
Profiles in your ATS are only valuable if they are fresh and complete
• EZ Rediscovery searches 46+ platforms (i.e. GitHub, LinkedIn, Indeed) for new information on your candidates
• New experiences, publications, contact information, and social links are all gathered and combined with existing information to bring your ATS profiles to life
• Your entire team will be able to see existing projects, notes, tags, emails, and activities for every candidate profile
• hireEZ AI will even provide you additional insights such as availability, average market value, and more
• Easily funnel sourced candidates from hireEZ to your ATS
---
Merging duplicates is simple
• EZ Rediscovery intelligently detects duplicate profiles
• An easy merging option allows you to select which fields you like from each profile
• New contact information, experiences, and social links can all be combined to create one clear, holistic profile
---
hireEZ's AI-powered filters resurface candidates in your ATS
With EZ Rediscovery, you'll be able to use Diversity, Clearance, GitHub, Healthcare, and other intelligent filters to search your ATS. To better streamline your work, hireEZ also offers ATS Jobs and ATS Stages filters along with filters that encourage flawless team collaboration.
• Filter candidates from your ATS by open or filled jobs
• Filter candidates from your ATS by which stage they are in
• Filter candidates that have not been contacted by your team over a number of days
• Reach out to candidates with confidence because you won't be stepping on your teammate's toes
• You'll be able to filter candidates that have not been contacted by your team over a number of days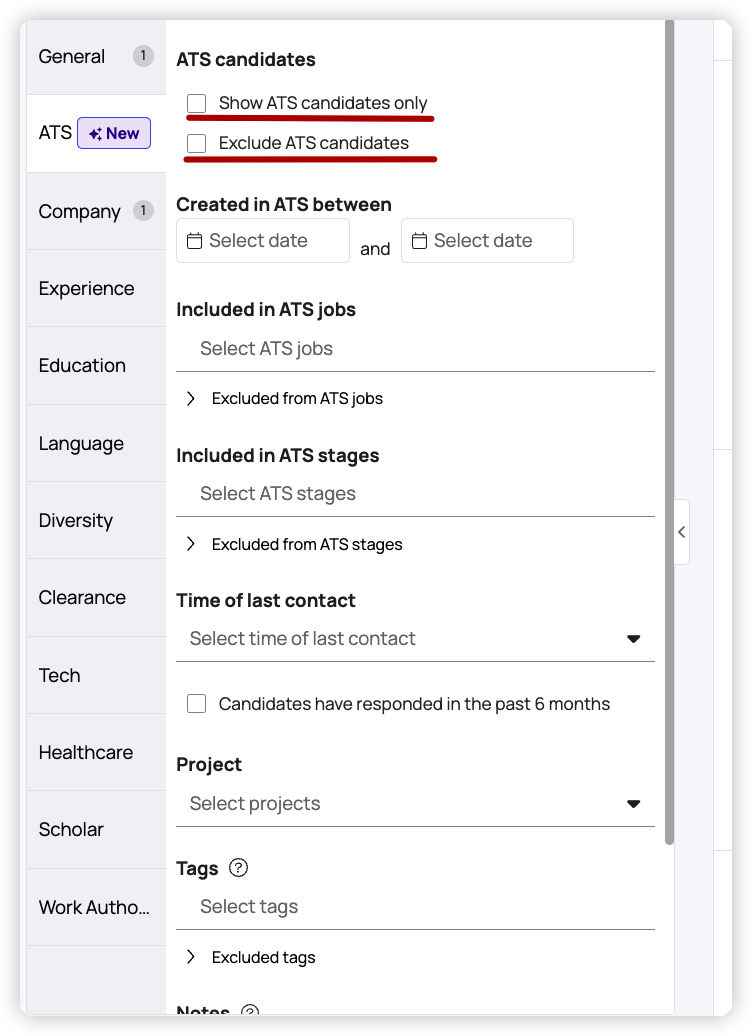 ---
Your Data is Safe with Us!
At hireEZ, we go above and beyond to ensure the security of your data.
• hireEZ is SOC2 Type II, GDPR, and CCPA compliant.
• hireEZ hosts its services using Amazon Web Services, which is physically secure, employs modern software security techniques, and requires multi-factor authentication for access.
• hireEZ implements strong data encryption and data isolation in a multi-tenant environment. Each customer's data is isolated in the database at the tabular level. One user will never be able to access and modify the data of another customer.
• Communication through the APIs of ATS partners is HTTPS encrypted using TLS 1.2 with the strongest cipher suites. The data in-transit is encrypted and authenticated using AES-128 bit encryption.
• In the case of a disaster, hireEZ's data is stored in an AWS multi-Availability Zone (AZ) in multiple regions across the United States.
---
If you would like to learn more about EZ Rediscovery and how it can help with your team's recruiting strategy, get in touch with your Customer Success Manager today!
You may also want to read:
Please reach out to support@hireez.com or directly contact your Customer Success Manager for additional training on this topic.