hireEZ - PCRecruiter is one of our earliest integrations that is easy to connect, abundant with smart filter offerings, and synchronous with candidate and user activities from both platforms.
How to generate the App ID and Application key
Please refer to this article for the details: How to generate a Main Sequence 3-Scale API Keys for PCRecruiter.
---
How to create an API User on PCRecruiter
*Note - If you already have an API User's Username and Password on PCRecruiter before, you can skip this step and go to step 3, use the existing API User's Username and Password on hireEZ.
1. Once the API user is created, select the Security tab for that user.
2. Change the top permission labelled "System Administrator" to have the value "Full Permission".
3. Once done, please make sure to save the changes.
*Note - Do not use "#" in the API password you create.
Go to System -> Database Maintenance -> Security Settings & add the following IP addresses to the "Whitelist these IP addresses:" text area,
---
How to Connect ATS from hireEZ
Before you begin, please ensure that you are...
A subscriber of hireEZ Enterprise and have a valid hireEZ account (*Please contact your hireEZ Account Manager if you need help setting up an Enterprise license.)

The admin user of your company's hireEZ Enterprise subscription and PCRecruiter account.

Note: Please do not connect your test/sandbox instance with the hireEZ production account. If you would like to perform sandbox testing, please reach out to support@hireez.com or the assigned TPM. They can assist you further to issue a separate instance for testing.
In case you end up connecting your sandbox account with the hireEZ production account, notify the support team at the earliest. This brings unknown issues for the integration and results in a delay in your onboarding.
Admin User
As an Admin user, you will be able to configure your ATS by clicking on the All Integrations tab.
If you also have a team member license, you can configure in hireEZ Apps by clicking here, and follow the steps as pictured in the screenshots below.
In either case, click on the Connect button on the ATS then Connect and input your PCRecruiter account information and click on Connect to continue to the next page.
Member User
As an Enterprise member user, you could go to the App page to request integration approval.
After you get approval from the admin, you will be able to see the "Connect" button on the ATS.
---
Select Push Permission (Admin Only)
Push permission configuration
Push permission configuration will allow team members to sync candidates from hireEZ to PCRecruiter as prospects or to a particular job and stage.
By clicking "Manage", there will be a setting page to set up.
Save candidates to PCRecruiter companies
To give the Admin users a more flexible customized export workflow, hireEZ allows admins to set up how they want their team to export to PCRecruiters' Company. So admins can select from "Manually select a company", "Save to a default company" or "Auto-match to companies".
To learn more details on it, please refer to PCRecruiter: Save Candidates to PCRecruiter Companies.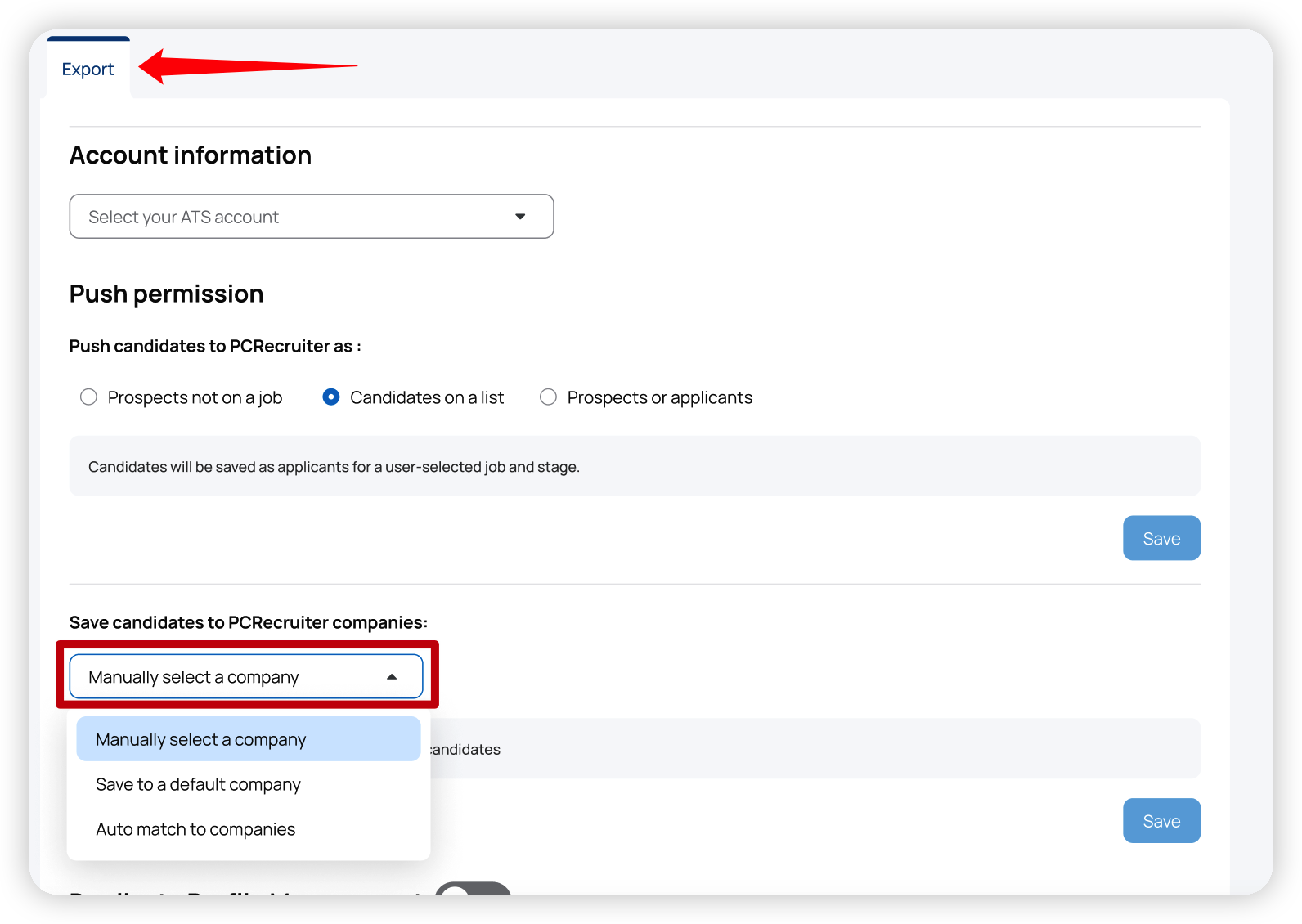 ---
Customize Data Field Mapping (Admin Only)
If you want to customize the data field mapping, scroll down from the export page:
Select a hireEZ candidate profile field from the 'hireEZ Profile Fields' list and choose a suitable field from the PCRecruiter profile fields dropdown. Please use the custom fields when you are mapping the following fields:
hireEZ Company
hireEZ Title
hireEZ Phone
hireEZ Phone Personal
hireEZ Phone Work
hireEZ Phone Other
hireEZ Email Primary
hireEZ Email 1
hireEZ Email 2
If you want to attach a resume for each candidate when syncing from hireEZ to PCRecruiter, select the 'Attach hireEZ Resume'
If you want to sync notes and tags from hireEZ to PCRecruiter, enable and map hireEZ Note and Tag fields with PCRecruiter activity fields.
Click "Save" when the change is made.
---
Add Custom Fields on PCRecruiter
You can also customize the field for the candidate exported from hireEZ.
---
After the ATS is successfully integrated, you may export the candidate's profile to the ATS.
Here is a guide on how to export candidates: How to Export Candidates to ATS, CSV or PDF File.
In addition, PCRecruiter is available for 2-way integration. You can also enable it to import and rediscovery candidates from your PCRecruiter candidate:
---
You may also contact us at support@hireez.com or reach out to your Customer Success Manager to learn more about the workflow.