Hey, folks! Happy Friday! This week we have released some new updates to AI Sourcing, Dashboard, EZ Engagement, Gmail Assistant, and The Bullhorn for Salesforce-hireEZ integration.
Here is a quick overview:

AI Sourcing
In order to help you focus on the candidates' profiles when you start screening through them, we are now making an improvement on the AI Sourcing page.
You can extend and collapse sourcing filters by clicking the < button on the middle right side of the filters section.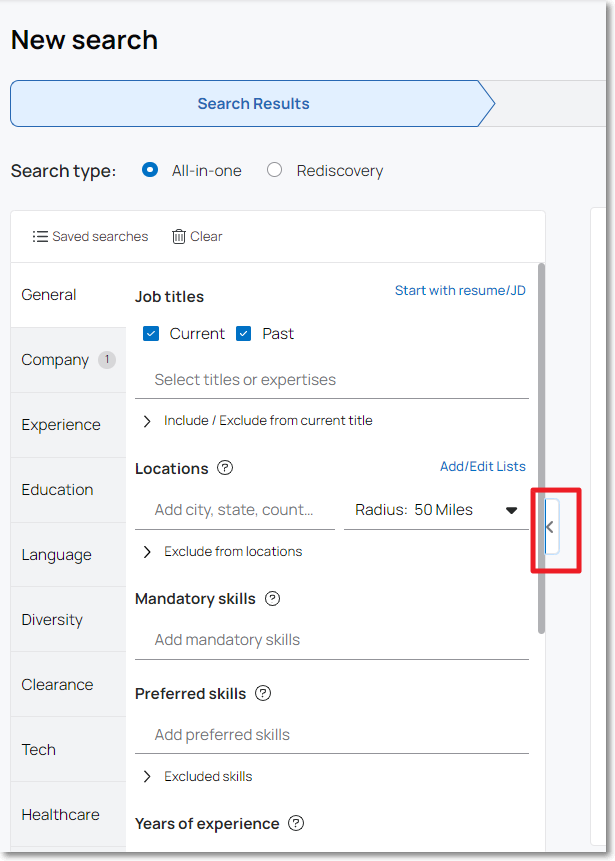 Dashboard
To better guide you on what needs to be done in your workflow, hireEZ has created a new feature - Suggested for You on the dashboard, while also making an improvement to the Quick Access widget.
"Suggested for you" is a new section on the dashboard that will push suggestions for your latest active project. At different stages, you will see various recommendations depending on your activities on hireEZ.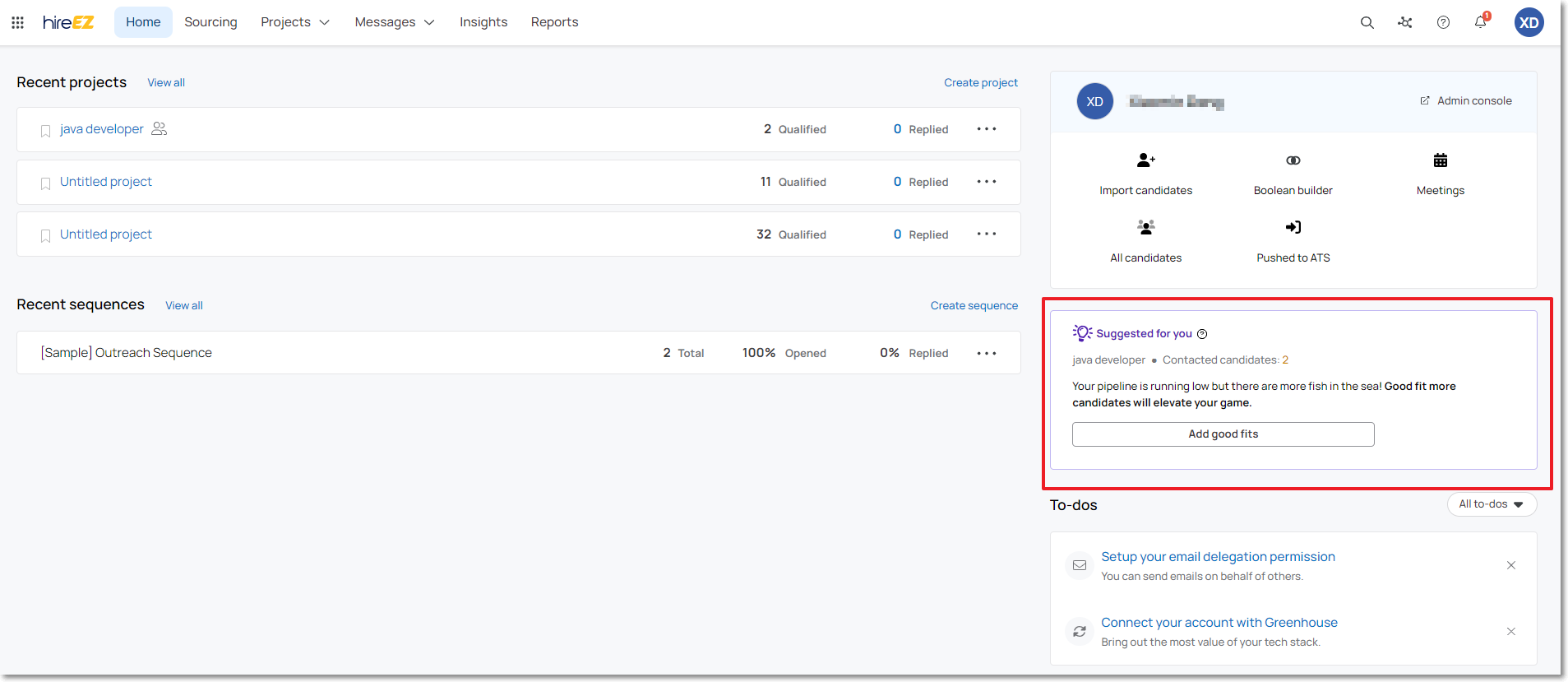 For more information about Suggested for you, you may refer to this article: Enterprise: Suggested for You
To save your time and improve your work efficiency with Quick Access on the dashboard, we have made the seven significant functions into readable icons and listed them in the upper right corner.


EZ Engagement

Now, if you received an auto-reply (for example, a candidate's out of office auto-reply message), we will not mark your single email or sequence as replied. The email sequence will keep sending on schedule since the candidate hasn't actually responded
This will help make it easier for you to track these candidates who didn't reply to you yet and keep in touch with them.


Gmail Assistant(Extension)
Now we have the brand new Gmail Assistant for you! We have redesigned the UI and created a new sidebar to make your engagement work easier.
After you install the hireEZ Chrome Extension, you will see the hireEZ logo on the right side of your Gmail Inbox. You need to integrate your Gmail to hireEZ and authorize your hireEZ account, then you can enjoy our new version of Gmail Assistant!
We also provide some general features buttons at the bottom of the sidebar.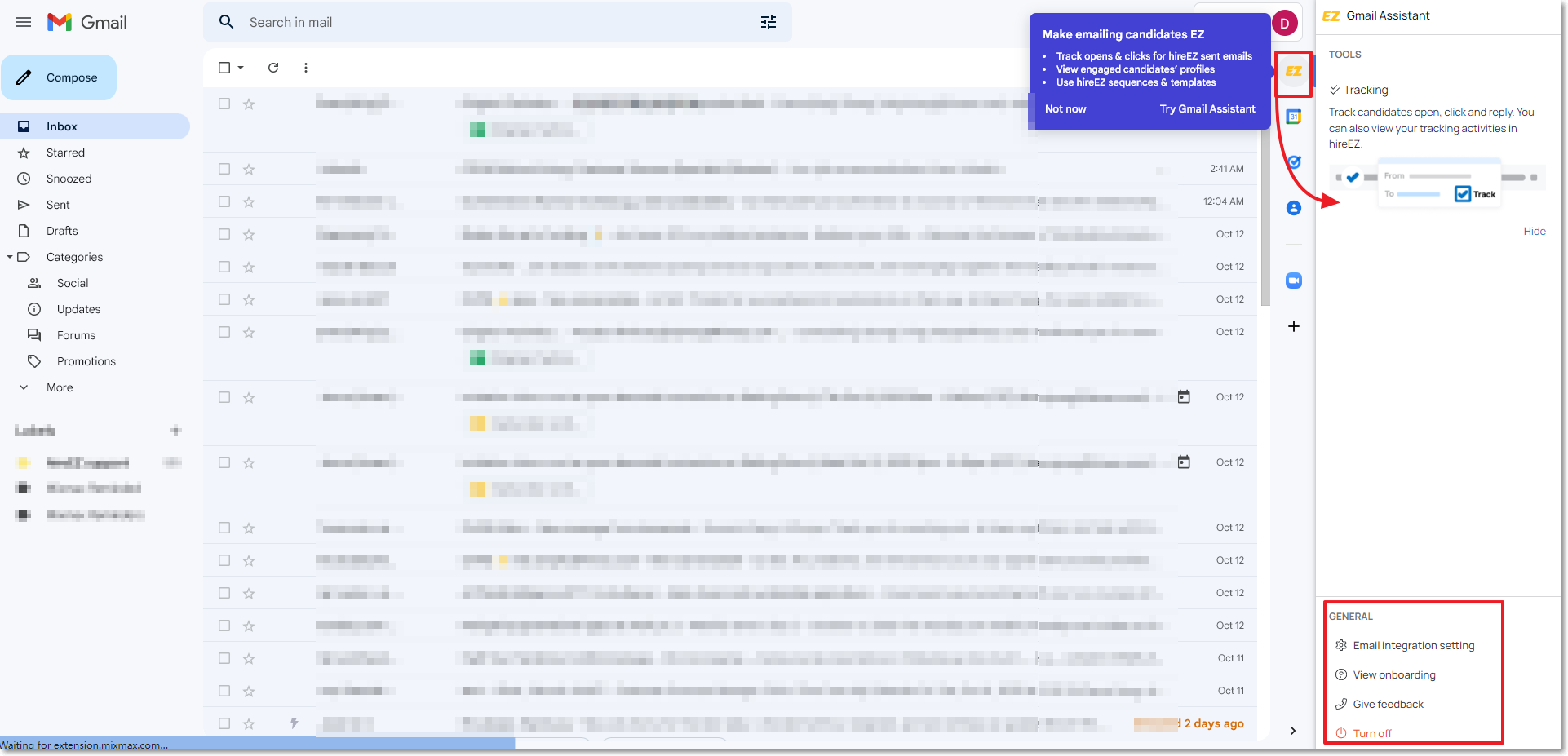 For more information about Gmail Assistant: you may refer to this article: Gmail Extension in Your Mailbox

The Bullhorn for Salesforce-hireEZ integration
The Bullhorn for Salesforce-hireEZ integration is now available in hireEZ. It combines Bullhorn for Salesforce's powerful ATS with hireEZ's rich candidate data hub and AI sourcing capabilities to create an end-to-end talent acquisition tool.


For more information about Bullhorn for Salesforce, you may refer to this article: How to Integrate with Bullhorn for Salesforce

That's all for the week! We hope you like these new features and updates. If you have any ideas or suggestions, feel free to reach out to support@hireez.com or share your thoughts with our Customer Success Team!